Article Information

Category: Human dignity
Published on Wednesday, 29 April 2015 17:06
Brussels, 29 April 2015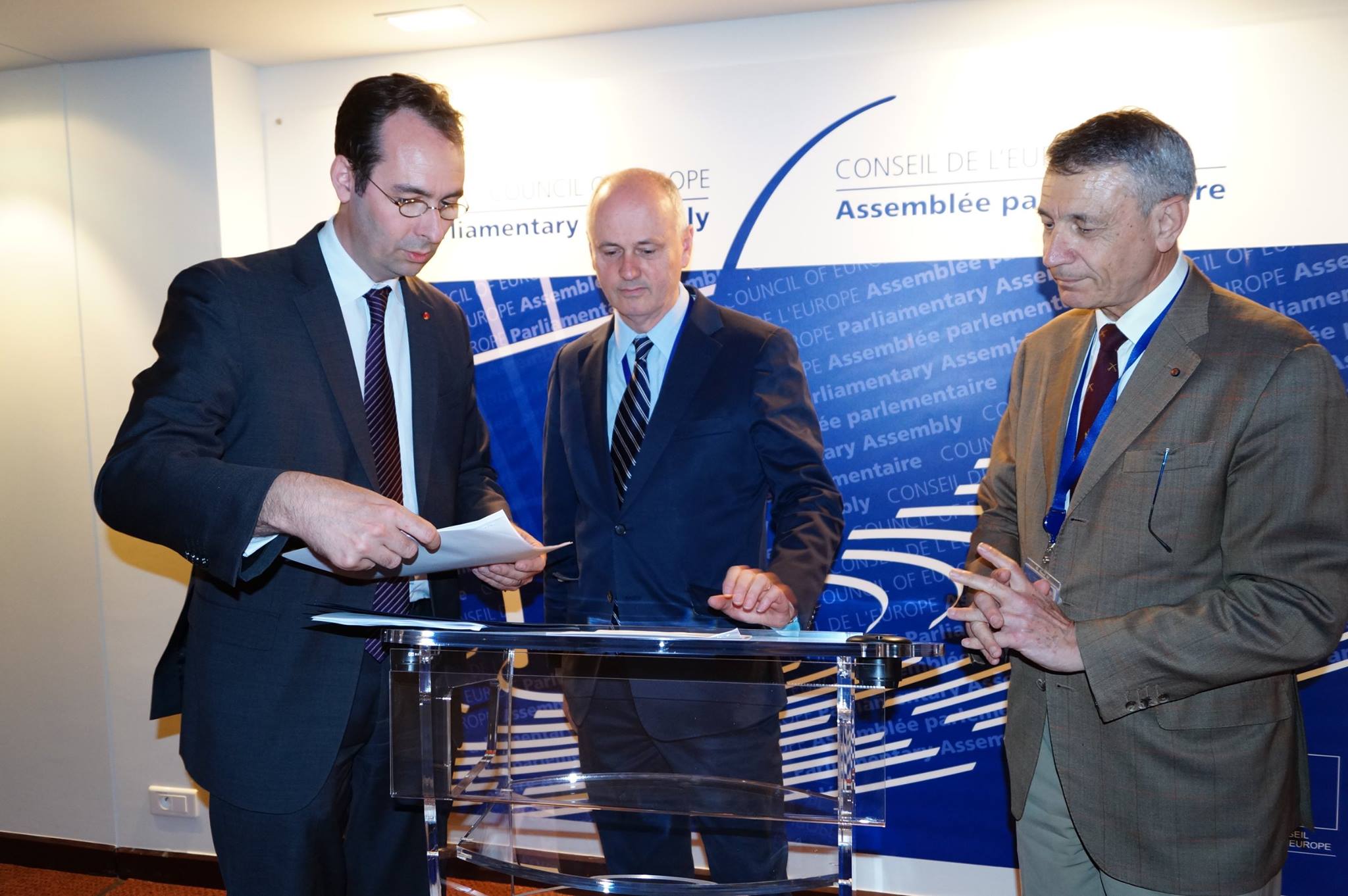 Signed by more than 185,000 citizens, the Bureau of the Parliamentary Assembly of the Council of Europe (PACE) formally received the "Petition for the rights of new-borns surviving their abortion", deciding to forward it to the Committee on Legal Affairs and Human Rights.
This is the largest petition ever presented to the PACE and it is an important first step that marks the beginning of the legal and political investigation of the petition by the parliamentarians. The PACE Committee on Legal Affairs and Human rights is now called to express its view on the importance of discussing the sensitive issue of new-borns surviving to an abortion.
(From right to left: Grégor Puppinck (ECLJ), Mark Neville (Head of Private Office) & Philippe Toussaint (FAFCE) Photo Credit: ECLJ)
Article Information

Category: European union
Published on Friday, 10 April 2015 13:21
Brussels, 10 April 2015
Last week the intergroup on Active ageing, intergenerational solidarity and Family friendly policies was officially registered at the European Parliament. This intergroup is divided into two Sub-Groups, one devoted to Active ageing, coordinated by Mr van Nistelrooij (EPP – Netherlands), and another one, coordinated by Mrs Zaborska, (EPP – Slovakia), to Family friendly policies. The topic intergenerational solidarity, will be addressed by both sub-groups as it is transversal. FAFCE warmly welcomes the re-establishment of an official structure of the European Parliament devoted to Family friendly policies, for the new legislative term 2014-2019.
Article Information

Category: European union
Published on Thursday, 12 March 2015 14:46
Strasbourg, 12 March 2015


Today is the Day of the Rights of the Child.

Children are entitled to special care and assistance according to the Universal Declaration of Human Rights.

Article Information

Category: European union
Published on Tuesday, 10 March 2015 11:56
Strasbourg, 10 March 2015

This morning the European Parliament voted the Annual report on the equality between women and men in the EU - 2013 presented by MEP Marc Tarabella. This report has raised concerns among citizens across the EU regarding the issue of abortion which was included in the text although it is not an EU competence. More than 168 000 citizens have expressed their concerns through an online petition addressed to the Members of the European Parliament.
Article Information

Category: European union
Published on Wednesday, 04 March 2015 10:14
Brussels, 4 March 2015
In a week the European Parliament will be gathered in Strasbourg for its March Plenary Session and will vote on the Annual Report on Human Rights and Democracy in the World 2013 and the European Union's policy on the matter presented by the Italian MEP Pier Antonio Panzeri from the Socialist and Democrats group, a report which is very contradictory as regards respect for subsidiarity and democracy.
Contact us
Phone : +32 (0) 4 98 46 02 20
Mail : FAFCE Federation of Catholic Family Associations in Europe
19 Square de Meeus B-1050 Bruxelles BELGIUM
Email : please use our contact form
Stay informed
Couldn't find list with id : 1a824e626a